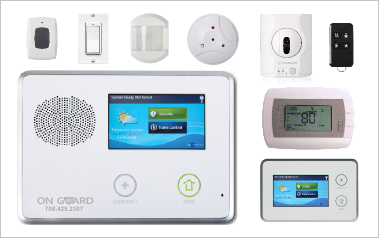 ON GUARD BASIC
36 month monitoring agreement at $40 per month
Installed Price $99.00
Includes:
1- Go!Control Master Touch Screen Control Talking Keypad
1- Wireless Key Ring Remote for easy arming and disarming
3- Perimeter Doors Protected
1- Motion Sensor (pet immune to 45 lbs.)
1- 90 Decibel Siren
3- Window Stickers
1- Battery Backup Power Supply
1- Alarm.com Cellular Radio (No phone line required.
Learn More.
)
1- Exclusive Crash & Smash Protection Service
ON GUARD PREFERRED
36 month monitoring agreement at $45 per month
Installed Price $199.00
Includes:
All of ON GUARD BASIC plus
1- Smoke Detector
1- Additional Motion Sensor
1- Additional Wireless Key Ring Remote
1- Complete Remote Control from your Smart Phone or Computer
Receive Real Time Event Text and Email Notifications
ON GUARD PREMIER
36 month agreement at $50 per month
Installed Price $399.00
Includes:
All of ON GUARD PREFERRED plus
1- Automatic Door Lock – Remote Lock and Unlock Control
** SPECIAL OFFER **
month-to-month agreement at $30 per month
EXISTING ALARM SECURITY
SYSTEM OWNERS
Receive:
NO LONG-TERM CONTRACT!
NO HOOK-UP FEES!
FREE INSPECTION!
FREE REPAIR!
(*With 36 month monitoring agreement. New customers only.)
Additional discounts off the price of a
New Award Winning Go!Control System
when you upgrade from your old security system